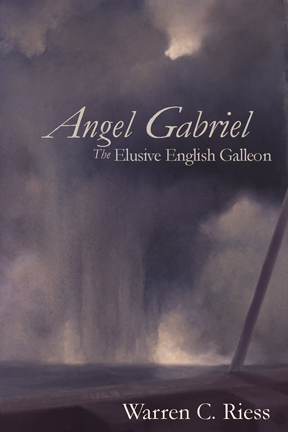 ". . . an excellent and wonderful historical mystery!
In Angel Gabriel, Dr. Warren Riess has contributed a significant account describing the career of a 17th century armed merchant vessel and its unfortunate demise on the Maine coast in 1635. Through sound historical and scientific research, the author shares his years of painstaking work in attempting to find the final resting place of this fascinating ship. This work is a must for those who love reading about the maritime history of Maine.
— Renny A. Stackpole, Former Director, Penobscot Marine Museum
_________________________________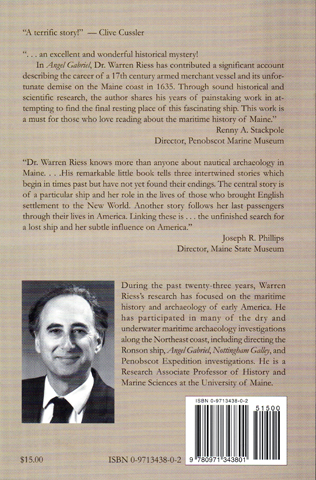 "Dr. Warren Riess knows more than anyone about nautical archaeology in Maine. . . .His remarkable little book tells three intertwined stories which begin in times past but have not yet found their endings. The central story is of a particular ship and her role in the lives of those who brought English settlement to the New World. Another story follows her last passengers through their lives in America. Linking these is . . . the unfinished search for a lost ship and her subtle influence on America."
— Joseph R. Phillips, Former Director,
Maine State Museum
_________________________________
This jewel of a book presents the history of and search for the remains of a fascinating seventeenth-century ship. She was built for Sir Walter Raleigh's last expedition to America in 1617, carried many people on adventures in the Atlantic Ocean for eighteen years, brought families to settle in America, and was wrecked by a hurricane at Pemaquid, Maine in 1635.
Primary and secondary sources indicate that at least eleven families sailed to New England on her last voyage: Andrews, Bailey, Blaesdell, Bradbury, Burnham, Cogswell, Furber, Haines, Hook, Simpson, and Tuttle. Some information about their lives in America is included in Chapter 5.
Angel Gabriel: the Elusive English Galleon is a paperback, 132 pages long, with a color cover and more than 30 black-and-white illustrations.